Adobe and Macromedia. For years, they've been fighting for users of the same market. Both into creative products, both having similar products. Macromedia Dreamweaver dominated Adobe Pagemill (and later Adobe GoLive, which Adobe acquired in 1999). Adobe Illustrator dominated Macromedia Freehand. And Adobe never got LiveMotion -- its Macromedia Flash rival -- really running.
If you can't fight em, buy em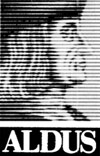 Corp. Logo
So, after years and years of fighting, Adobe finally
decided to buy Macromedia
. Adobe, releasing the completely revamped Creative Suite 2 in May 2005, has now a huge portfolio. And no one worth mentioning left to beat.
Remember Aldus? Aldus Pagemaker? Aldus was bought by Adobe, Pagemaker was a natural extension to Adobes portfolio. And so they
bought them in 1994
. Some of the less known things are, for example, that Aldus also was responsible for FreeHand and Persuasion.
Altsys, the software company behind the developement of FreeHand (which was sold by Aldus) got the rights
to market FreeHand
back and immediately sold them to Macromedia.
Macromedia portfolio

Corp. Logo
Macromedia Freehand was always a big competitor of Adobe Illustrator. Some liked a bunch of features more that Illustrator couldn't offer. Like multi-paged files, for example. Freehand was also the first of these two products to have transparency and layer effects.
Macromedia Dreamweaver was successful from the start on. GoLive was said to have superior site management features and a great asset manager. But on the same time, it was too complicated. Dreamweaver got the synonymous for wysiwyg-html editing.
Last but not least: Macromedia Flash. The one plugin that gave us rich media in the internet without the bandwidth consumption. Again, Flash was initially a product of
Aldus
, which Adobe already acquired long ago! In fact, it started as IntelliDraw, written by John Gay, but didn't have animation-capabilities back then.
Adobes plan seems to have been: Let these products mature, wait until Macromedia runs out of ideas and then buy them.
I'm very curious and afraid at the same time, what will happen next. Adobe without any competition? Yes, I love Adobe products. Especially Photoshop is the one best application I know. But what's next?