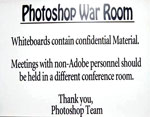 If you'd ask me about my favourite piece of software, I'd answer Photoshop instantly. Naturally, I'm interested in the surroundings of Photoshop as well. Like Adobe, the Photoshop team or their building.
I've just happend to come across a nice little picture story on PhotoshopNews, which shows the Photoshop team as well as Adobes headquarter in St. Jos / California
The story
a visit to Adobe is a pleasant, light-weight photo story about Adobe. The focus lies on the Photoshop team and their offices. You get to know celebrities like Chris Cox, the hobby singer Seetharanan Narayanan, or even Russel Brown.
I found the link through the official Adobe Photoshop User Forums (let's hope this URL works), which is a nice but also overwhelming read.
Trivia: Which other celebrity can be found in St. José as well? Think phpWebSite... ;-)