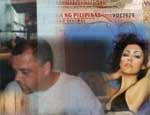 kiesler.at experienced 9 hits from AltaVista today. Altavista, the big search engine that was popular before Google came up. Naturally I was a bit puzzled as the search query view of the current Visitors 1.2 beta didn't show any AltaVista hits.
The explaination is rather simple. The hits wheren't caused by search queries. No, they where triggered by a special AltaVista random image link.
The concept...
...is rather simple, yet effective. WebCollage does a random image search through AltaVista every minute. It uses the said AltaVista random image search to do so. What AltaVista does not is censor images.
As there is a big amount of porn on the Internet you might find offending stuff there as well as on WebCollage.
The results...
...are quite fascinating at times. WebCollage fades the images into each other and creates image maps, too. That means: You can click on a part of the collage and can visit the site it came from.
I really would like to know, how many pictures AltaVista indexed. There must be quite a few pictures available to the random url. Jamie Zawinski adds a nice amount of spice to it and makes surfing a pleasure. If you are bored, give the WebCollage a try.
Internet, you've never failed to astound me!