Sometimes, I stumble accross funny personality tests. Like what cheese are you, etc. This time, it's been choosing a file extension for me. I guess, it matches my personality pretty good.
I am a JPEG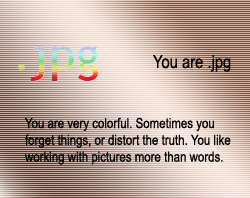 I am a JPEG
BBspots personality checker attested: I am a JPEG. My attributes:
Colourful
Sometimes distort the truth
Like working with pictures more than with words
Well, that figures...
OK, it's your turn now! Post your results, with description. I'm curious.