Native english speakers could consider themselves lucky. They don't have a need for accents, don't know about umlauts, about the -symbol, about the chinese, arabic, korean alphabet, and so on. A few letters, a few numbers, a few special keys there you have your english keyboard. The Optimus keyboard is a design study that does more than that.
Instead of having the letters painted on the keyboard, the keys are little displays. I counted 132 keys, that makes 132 small displays. Obviously, this invention is not from an native english speaker.
Made in Russia
www.artlebedev.com/company/
'>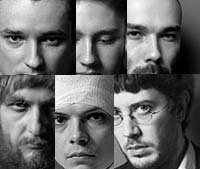 the art directors
No, the Optimus keyboard is an russian invention. The Lebedev Studio claims to be the biggest design studio in Russia and has a few interesting objects in their portfolio. Their work includes a font face, a microwave oven with a heart, a phone with only 4 keys and a mouse that's a mouse-pointer.
Art.lebedev does Webdesign as well and has a couple of wallpapers online. What I like about their website is their minimal approach. On the one hand, you have handcrafted, brown illustrations with white and orange/red highlights.
They are contrasted by black Times New Roman letters (=default fontset of web browsers) on white background. Art.lebedev didn't even bother to change the default link-colours.
The keyboard
www.artlebedev.com/portfolio/optimus/
'>

front view
But let's look back to the keyboard. Well, I almost wrote everything you could want to know about it. It's minimal. It's light-grey. It has a lot of little displays on it. And it's only a design-study now, you can't buy it yet.
During its slashdotting, Lebedev Studio came up with a couple of additional answers people had. The plan is to release it in 2006, that's the only information that matters to me. And I guess I want one.
Maybe I'd like to try it out in a shop first, though. Interesting concept.
(found in the Informatik-Forum)