The previous issue of the german magazine c't (2005, heft 15) had an interesting short one column article about an fascinating piece of software. It enables to share the graphics card of a second PC with the first one over the network, thus enlarging your real screen estate.
Too good to be true? No, it actually works. You can't expect wonders of course, but it's very nice.
What it does
Dual Screen like it should be
MaxiVista emulates a two-screen graphics adapter. Or a three-screen graphics adapter, if you already have a dual screen setup. You need two PCs, a network connection (wireless or wire) and MaxiVista. It doesn't even reboot after the installation, it just works.
There's a demo version which I'm just running on my PCs. I have a Athlon 1.2 GHz with 1 GB RAM as main PC and a Centrino 800 MHz with 256 MB RAM as secondary PC. Both are driving their own Sony TFT Screen with a native resolution of 1.280x1.024px and are connected via wireless LAN (the slow one).
MaxiVista just uses the secondary PCs graphics adapter to make it display an extension of the first one. Like a dual-screen setup. Then again...
Problems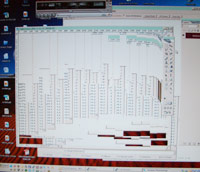 Broken
...it certainly has a couple of drawbacks. One of them is responsiveness. The "maximum speed" setting is responsive, most of the time. The quality is ok, think JPG low quality. Well, it's useful at least.
But the big problem is, that MaxiVista often enough simply hangs. You can "wake it up" through Ctrl-Alt-Del, followed by ESC. You can move around windows while it's hanging. But you can't click on the taskbar, for example. And the taskbar isn't updated either.
You get a screen like seen here in return.
Conclusion?
The biggest problems I had with MaxiVista were about the Photoshop performance. It's working now quite nice, but it was terrible a few minutes ago. My system just locked up and didn't do anything until I disabled the second screen. Which wasn't easy, as my system's taskbar wouldn't react too speedy. Anyway.
Would I recommend it? I don't know. Download it and see for yourself. If you running it on ethernet or a high-performance wireless network it should be fantastic. If you are on low bandwidth like my notebook is, on the other hand... Well, try it yourself. It's a cool piece of software.